£2 fare cap - offer extended! 26/10/2023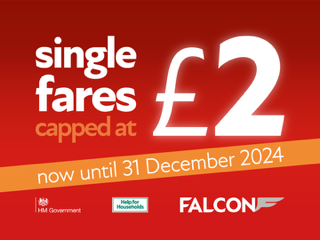 The £2 fare cap offer has been extended until 31 December 2024!
All single fares on Falcon Buses routes* will continue to be reduced to just £2!
To help with the cost of living pressures the Government is subsiding most single bus fares and these will be capped at £2 until Tuesday 31 December 2024.
If you are making a return journey you will be able to purchase a return ticket priced at £4, however if you are making more frequent journeys it may still be cheaper to purchase one of our great value Day, Week or 4 Week tickets.
There are no changes for concessionary fare holders and these remain free to use at the usual times, however should you need to travel outside of these times you will be able to benefit from the £2 fare offer.
* Most school bus routes are exempt from the scheme and are therefore not included.